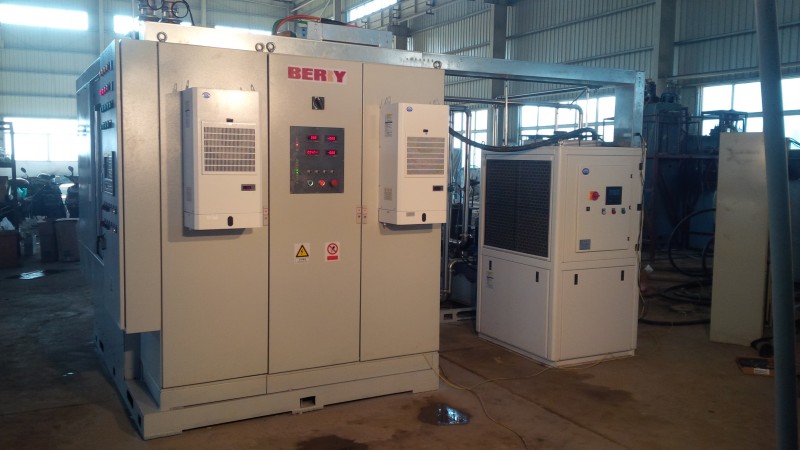 Induction heating equipment is in the air after heating machine, roller heating machine into the market for a long time before they developed to produce a heating device, although appeared late, but by virtue of its superior performance, ease of operation within a few years time has become the industry's most mainstream heating equipment, has become the first choice for many customers with heat treatment equipment.
  So exactly what kind of induction heating equipment glamor, let it so widely welcomed by customers? Here, let us follow the electromechanical technician for induction heating equipment to conduct a careful and meticulous understanding of induction heating equipment with the same wheel heating machine is a drum clip-heating equipment, induction heating equipment and mechanical heating machine and wheel shape is basically the same, but have the same relaxation device, then what is the difference between what it?
  In fact, the most fundamental reason for the roller heating machine and induction heating equipment is that they have a completely different power sources and transmission principle, wheel heating machine itself has no power, is to rely on punch output shaft to provide a power source, the operation of the power required by the eccentric disk , cross joint, connecting rods, rocker arm, drive shaft, and a series of one-way transmission device to transmit power, therefore susceptible to punch output shaft rotation rate gap, eccentric disc, turn the magnitude of the impact of the rocker, and therefore applicable limited in scope, and adjust relatively cumbersome, difficult to ensure the accuracy of the heating has stabilized; and induction heating equipment sucked heating system into a full CNC machine production, which consists of a touch-screen input heating step distance, speed, frequency and other relevant instructions to the PLC transmission and then control the servo drive by PLC, and finally achieve precise control servo motor cylinder heated by heating belt wheel drive, electric control system Hengyuan Mitsubishi PLC, Yaskawa servo drives, Yaskawa servo motor and Wei Lun touch screen make the best of the electronic control system to ensure accuracy is always stable, reliable heating accuracy up to ± 0.02, and step distance, speed, number of settings can be easy to complete the operation on the touch screen, which is a popular induction heating equipment heating equipment simply become mainstream reason.